Our crowns and bridge restorations are made with the finest materials available today from internationally-known manufacturers. Our metal substructures are made with accredited alloys and each case includes an Identalloy certificate for the patient record.
All Ceramic Crown & Bridge
PFM - Porcelain Fused Metal Dental Crowns
Lifespan can be 30 years or more with good oral hygiene practices.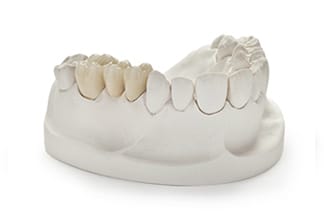 Good marginal integrity. Strong and durable. Tried and true certified alloys.
Precious metal with a lifespan of 30 years or more.
Strong, versatile and durable. Used for over 60 years.
Long-term wear characteristics. Full cast crowns can last for 30-40 years with good oral hygiene.
Full cast gold is still one of the most wear-friendly of dental materials and is extremely bio-compatible.
Patients have become more concerned about the material in their mouths and want to receive the most esthetically pleasing restorations. This demand has been accommodated with the introduction of newer and stronger ceramics.
THIS CHART WILL HELP YOU…
Decide which materials are best
Know the difference between crown & bridge products
Know all the benefits and features of each product
Get started. Everything you need to send a case today!
Download Rx forms for your office.
Patient scheduling made easy.
Request shipping labels, and more.
Sign up or login to our customer portal.
Learn more about our case tracking app.
Questions? Ask our knowledgeable and friendly team!
Our experts are passionate about supporting your dental practice
Full-service Certified Dental Laboratory (CDL)
Certified Dental Technicians available for case planning
Member of National Association of Dental Laboratories (NADL)
Exclusively utilize fully approved FDA materials
Experienced fixed and removable specialists on staff
Whether you know exactly what you need, or you're looking for advice on a complex case, we're here for you